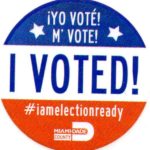 I stopped at the polls on the way home.  It was raining and all of the electioneers — all campaigning for judges — were huddled under ponchos or the trees in the parking lot of the church where the polling station is located.  They tried to hand me their material but I had a list of recommendations from a lawyer friend and so I politely declined their suggestions.
It was a short ballot; a page and a half.  Since it's a closed primary I couldn't vote for someone to primary out Marco Rubio, but I did get to choose a Democrat to run against him.  I also got to choose a candidate to run against U.S. Rep. Ileana Ros-Lentinen.  She's not a right-wing nut job — she's on the right side of LGBT issues — but she's a Republican and I'd vote against her if it my other choice was Teddy the Wonder Lizard.  I also voted in favor of the constitutional amendment for solar power.  After all, this is the Sunshine State, according to my license plate.
When I got home there were four messages on the machine all urging me to vote for a particular candidate.  I even got one from former President Jed Bartlet.  (He said his name was Martin Sheen, but I'd know that voice anywhere.)  He wanted me to vote for Alan Grayson.  Sorry, Mr. President; I already voted, and Mr. Grayson is just too much of a loose cannon and he'd get slaughtered upstate where they don't have a problem voting against a "non-Christian."  I'm not wild about Patrick Murphy, either, and there was another choice anyway.
Polls are open until 7:00 p.m. local time.